LEGENDS: Lane Adams - Red Oak grad working back toward majors
Childhood dreams often remain just that.
But Red Oak graduate Lane Adams got the chance to live the dream of every young boy last September after being called up to play outfield for the Kansas City Royals.
"It was very cool and a very exciting night for myself and my friends and everybody back home," said Adams, who graduated from Red Oak in 2009. "Being able to step on a baseball field in September in the middle of a playoff chase was just an awesome experience."
Kansas City called Adams up to the majors on Sept. 1, 2014, and he made his major-league debut that night — pinch-running for Raul Ibanez in the eighth inning of a 4-3 home win against the Texas Rangers.
He rode along as the Royals made the playoffs for the first time since 1985 — also the only season the club won the World Series.
Kansas City beat Oakland in the Wild Card game, and swept both the Los Angeles Angels in the ALDS, and the Baltimore Orioles in the ALCS.
However, the Royals' magical season was cut short when they lost in seven games in the World Series to San Francisco — which won its third championship in the last five years.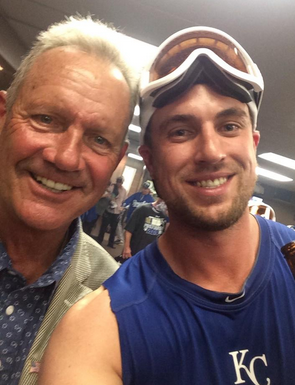 After becoming part of history — and celebrating with Royals legend and fellow Oklahoman George Brett — Adams is now trying to get back to the majors.
"I'm just trying to be more consistent as a player instead of having hot and cold streaks," Adams said. "If I get more consistent with the bat, that'll help me become a useful major league player."
RED OAK
Adams was a two-sport star at Red Oak, leading the Eagles to state championships in fall baseball (2008), spring baseball (2008) and basketball (2009).
But one of the most memorable moments of his high school career was seeing roughly 300 people lined up outside of Red Oak's gym seven hours before the top-ranked Eagles faced No. 2 Stringtown and Tyrus McGee — who eventually played at Iowa State and now plays professionally overseas.
"It was a huge game," Adams said. "We were No. 1, they were No. 2, Tyrus was one of best players at the time. It was a big rivalry and it was the only time we beat them."
Adams finished his high school career with 3,251 points scored to make him the fifth-highest scorer in Oklahoma preps history and earn him a basketball scholarship at Missouri State University.
But then the Kansas City Royals drafted Adams in the 13th round of the 2009 June Free Agent Draft with the 392 overall selection — seven picks ahead of St. Louis third baseman Matt Carpenter, who was a member of the Cardinals' 2011 World Series championship team.
Suddenly, he faced a major decision.
THE DECISION
Adams said he was nervous when he went to then-Missouri State head basketball coach Cuonzo Martin's office to tell him he was thinking about signing with the Royals.
Afterall, being on campus for just 2.5 days.
"I walked over to his office not knowing how to handle it," Adams said. "(Martin) knew when he signed me that I had a chance (to be drafted) so he was aware. But he told me to go home and talk over with my mom and then I was at ease with the situation."
After talking it over with his mom, Adams chose to give baseball a shot and Martin told him he would have a spot on the basketball team if he decided to come back.
Adams signed with Kansas City for a reported $225,000 and Martin later left to become the head basketball coach at the University of Tennessee.
GETTING THE CALL
Adams finally started gaining ground as a prospect in 2013.
He was named the Wilmington (A) Player of the Year in 2013 — with a .276 batting average, seven home runs and 39 RBIs — before being promoted to the Royals' AA affiliate, Northwest Arkansas — where he tied club records with three home runs and seven runs batted in and was named a Texas League All-Star.
He was then promoted to Omaha during the Pacific Coast League playoffs — where the Storm Chasers won the 2013 AAA championship — and the Royals added him to the 40-man roster following the 2013 season.
Then, he got the call from the big club.
"My manager called me up and it was pretty exciting to experience," Adams said.
Adams played in six games last season with the Royals and scored the first run of his career on Sept. 20, 2014, on an Eric Hosmer fly-out to right field in the bottom of the eighth of a 3-2 loss to the Detroit Tigers.
BACK TO THE MINORS
Adams is back to playing meaningful baseball games this season.
His tying seventh-inning home run lifted Northwest Arkansas to an 11-10 win against the Tulsa Drillers late last month and he had two hits and scored a run in a 7-3 win the following evening.
The two wins helped the Naturals virtually lock up a first-half championship in the Texas League North and showed Adams can contribute at a high level.
Adams started this season back in Omaha, where he averaged .226 at the plate with four home runs and 13 RBIs in 37 games before being sent to Northwest Arkansas on June 3.
He virtually matched his Omaha power numbers — with four home runs and 17 RBIs with NWA — and improved his batting average to .270 through 38 games.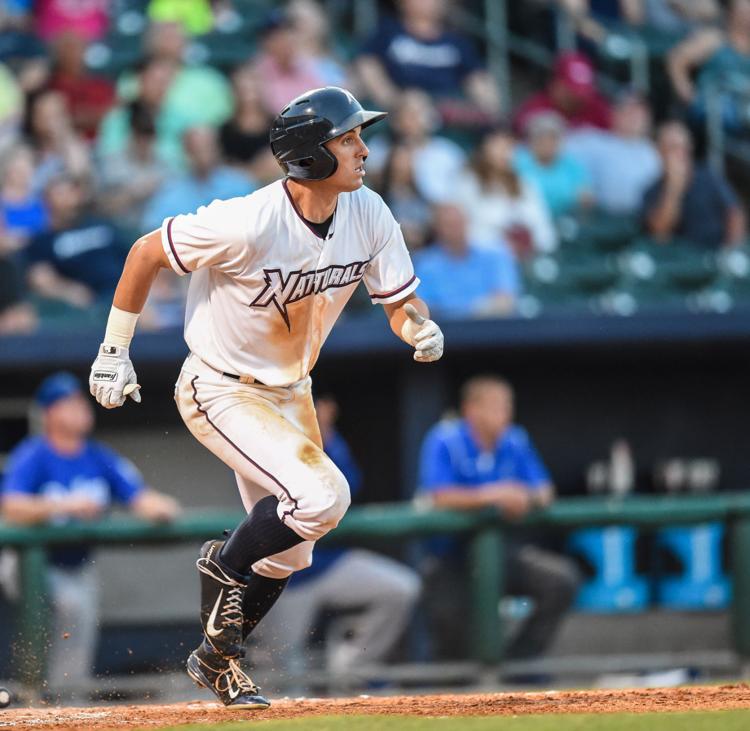 While he continues to try to earn a return call to the majors, Adams said he has plenty of support from back home to keep up his spirits.
"It's a really good support system," Adams said. "They just tell me to keep swinging hard…but I know getting promoted is all out of my control, so its not going to do me any good to worry about it or think about it, so I just go out there and play and enjoy it."