The world's largest steam locomotive will trek though McAlester in August as part of a 10-state tour celebrating railroad heritage and the communities Union Pacific serves.
Union Pacific announced its Big Boy No. 4014 will leave Cheyenne, Wyoming on Aug. 5 and will make brief whistle-stops in communities across Arkansas, Colorado, Illinois, Kansas, Louisiana, Missouri, Nebraska, Oklahoma, Texas and Wyoming as part of "The Big Boy 2021 Tour."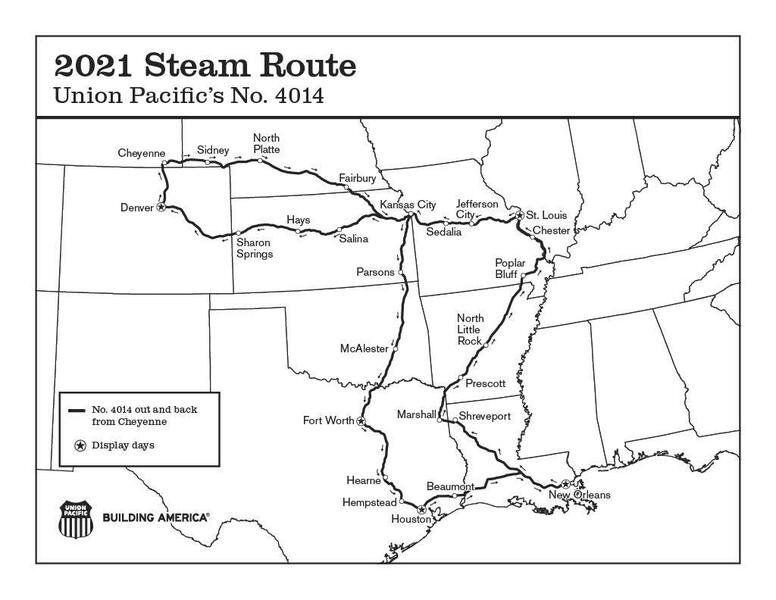 "Weighing in at 1.2 million pounds, the Big Boy makes a big impression in communities it visits, reminding us of bygone days and the important role the railroad continues to play in our global economy," said Scott Moore, Union Pacific Senior Vice President – Corporate Relations and chief administrative officer in a press release announcing the tour. "This summer, we are proud to announce that the Big Boy will be back to tour through 10 of the states and hundreds of the communities which Union Pacific serves."
The schedule of exact dates and times of the whistle-stops are still being worked out by Union Pacific, but the locomotive will make its first display stop in Fort Worth, Texas on Aug. 14, meaning the train will travel through Oklahoma and McAlester prior to that date.
Weighing in at 1.2 million pounds, the Big Boy, built in 1941, is the largest, heaviest, and most powerful operational steam locomotive in the world, according to Union Pacific. The Big Boy stands 17 feet tall and is 133 feet long, 99 feet less than a Boeing 747.
Twenty-five Big Boys were built exclusively for Union Pacific. Only eight remain today with the other seven held in static displays in museums at Cheyenne, Wyoming; Denver, Colorado; Frisco, Texas; Green Bay, Wisconsin; Omaha, Nebraska; Scranton, Pennsylvania; and St. Louis, Missouri.
According to Union Pacific, No. 4014 was retired in December 1961, traveling a total of 1,031,205 miles in its 20 years in service.
Union Pacific reacquired No. 4014 in 2013 from the RailGiants Train Museum in Pomona, California after the train spent 52 years at the museum. The company spent the next six-years restoring the train to operational condition prior to the 150th anniversary of the Transcontinental Railroad.
Visitors are strongly encouraged by Union Pacific to keep safety top of mind while viewing and photographing No. 4014 on its journey. 
The Experience the Union Pacific Rail Car — a multimedia walk-through exhibition providing a glimpse at the past while telling the story of modern-day railroading — will accompany the Big Boy on its tour.
Once the train begins its trek, a map showing No. 4014's location and route will be available at www.upsteam.com.
Contact Derrick James at djames@mcalesternews.com