DURANT — A study shows the Choctaw Nation of Oklahoma had an economic impact of more than $2 billion in the state of Oklahoma during 2018.
Tribal leaders made the announcement during a conference releasing the study results on Thursday at the Choctaw Nation headquarters in Durant to a room full of state, county, and local officials from the tribe's 10-and-a-half county area.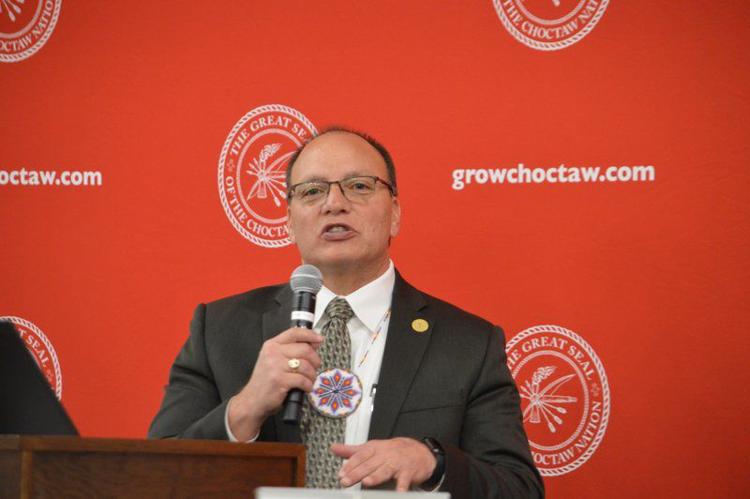 "Our legacy as Choctaw Nation, as Choctaw citizens, is that we've always been a resiliency and strength," Choctaw Nation of Oklahoma Chief Gary Batton said. "But also of compassion and caring just like we did when we give to the people of Ireland back after we came across the Trail of Tears, just like our code talkers did when we used our language in World War I, this economic impact is just a continuous of that legacy."
Chief Batton broke down the number of jobs supported by the tribe and the amount of money invested in various categories.
In 2018, the tribe supported 16,974 jobs in Oklahoma who made a total of $793.8 million in wages in benefits with 449 new jobs created with the help of Choctaw Small Business.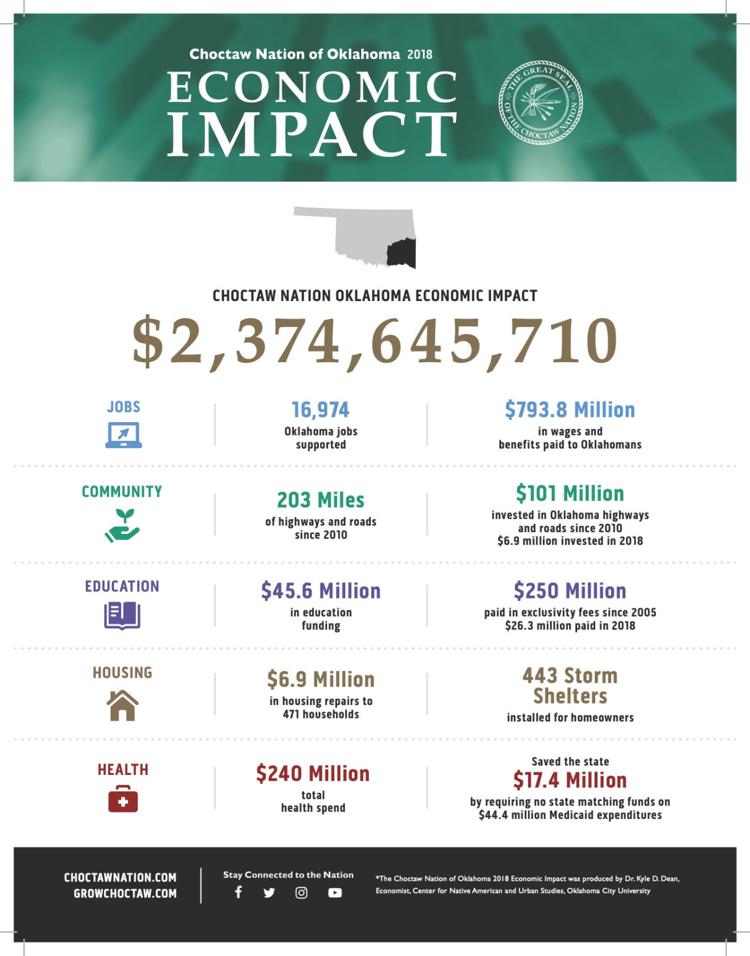 More than $100 million has been invested in state roads and highways since 2010 with another $3.8 million used in water lines and other infrastructure projects in the tribe's 10 and a half counties.
The tribe spent $45.6 million in education funding with $1.5 million funding Choctaw language classes in 44 public schools. More than 9,300 scholarships were awarded to tribal students totaling $7.1 million.
More than $250 million in exclusivity fees have been paid to the state since 2010, according to the Gaming Compact, including $26 million in 2018. The funds go directly to support public education statewide. The $45.6 million in education spending by the tribe is on top of the money paid to the state in exclusivity fees.
Choctaw Nation built 90 new homes in 2018, with 20 of the homes built in Krebs. More than 470 Choctaw households received a total of $6.9 million in housing repair costs. Another $2.4 million was used in rental assistance and $2.9 million used for home loans.
Healthcare spending totaled $240 million in 2018 with 972,877 patient encounters. Batton said the tribal healthcare system saved the state of Oklahoma more than $17 million by requiring no state matching funds on $44.4 million Medicaid expenditures.
Batton credited southeast Oklahoma leaders for contributing to making the Nation stronger.
"I want to say 'Yakoke' (thank you in Choctaw) for changing those lives because without you, I could say we couldn't make it possible," Batton said. "We are making a difference here."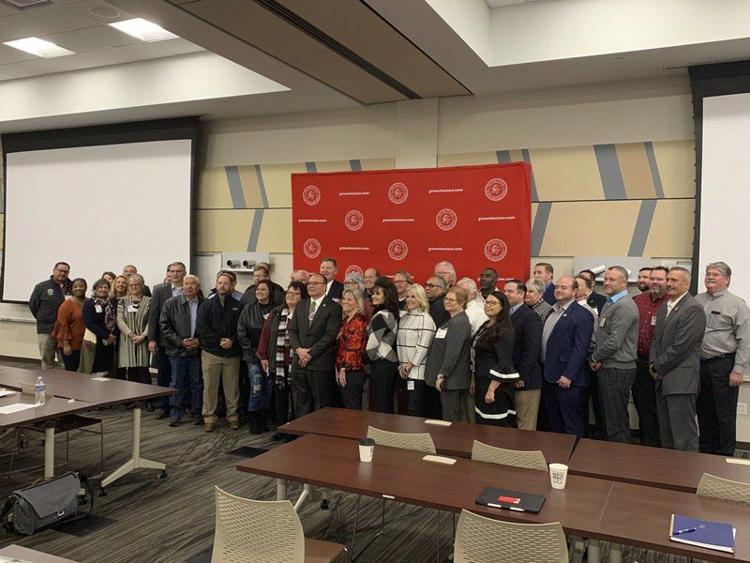 Attendees were updated on numerous projects the tribe is currently undertaking, including an unmanned aircraft systems integration pilot program where the tribe has partnered up with aeronautical companies across the nation to collaborate on next generation technology such as flying taxis.
"We're developing a unique, one-of-a-kind, advanced aviation testing facility on tribal properties with tribal dollars near Daisy, Oklahoma," said Tammye Gwin, Executive Director of Business Development for the tribe.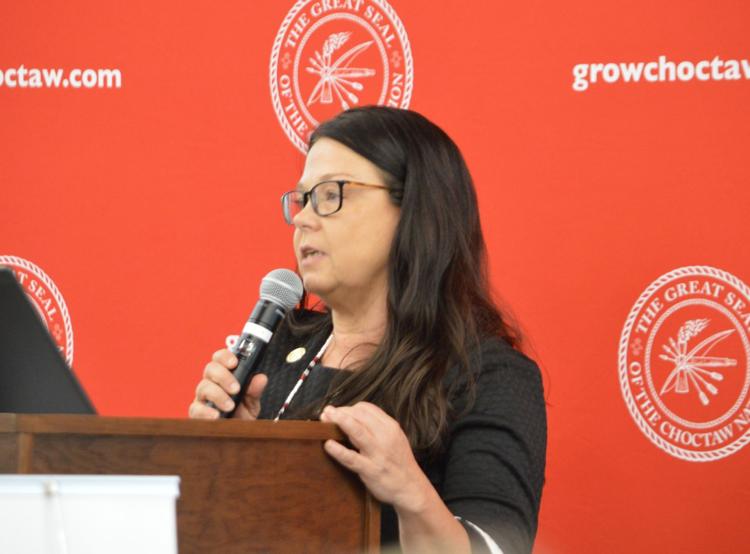 The economic report was prepared by Dr. Kyle Dean, an economist for the Center for Native American and Urban Studies at Oklahoma City University who provides economic analysis for business and governments across the nation.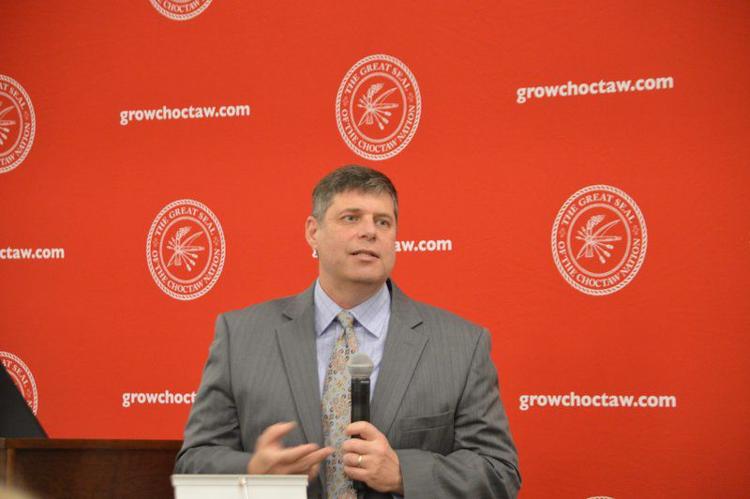 Dean said Choctaw Nation's economic impact of $2.4 billion makes the nation a "significant economic driver in the state, and their impact is vital in counties in southeastern Oklahoma where the average poverty rate is 20 percent."
"I was thinking about all of the counties that the Choctaw Nation is in and as I was driving up today, and I looked at the buildings here, I thought, you know, if the Choctaw Nation isn't here, these buildings aren't here," Dean said. "If these buildings aren't here, there aren't people here, there aren't people working here and if there aren't people working here, there aren't people living here."
In closing, Batton said it was about impacting lives throughout the Choctaw Nation.
"I can stand before you as a proud Choctaw and, and a proud Oklahoman," Batton said. "Because rising tide rises all ships. The Choctaw Nation, we're here, we're not going anywhere else. We are truly going to continue making Oklahoma better and we're not going to go to Mexico, we're not going to go anywhere else. We're going to stay right here in our grand state of Oklahoma."
Contact Derrick James at djames@mcalesternews.com