Abe Medaris said he was shocked when his family found his car-top carrier was broken into after staying at a McAlester hotel over the weekend between their trip from Texas to their home in St. Louis.
Inside a suitcase that was taken were leg braces that belongs to his 13-year-old daughter Chava, who was born with Spina Bifida and needs the braces to walk.
Chava began her first day of school Monday using her wheelchair due to the theft.
"First day of school you want to make a good impression, so she was struggling a little bit," her father said. "She wasn't able to do that; she uses her wheelchair for longer distances, but she prefers not to."
Medaris said even with the circumstances, Chava "was really excited to know that everybody was looking for her braces."
A plea for the return of the braces was made by McAlester Police Patrolman Colby Barnett on social media and it received close to 2,000 shares before the braces were found Tuesday near a yard where Krebs Police Officer Link Logan lives.
"I knew it was going to be a shot in the dark having a thief being an honest person," Barnett said. "I guess thieves have a little bit of a heart at times."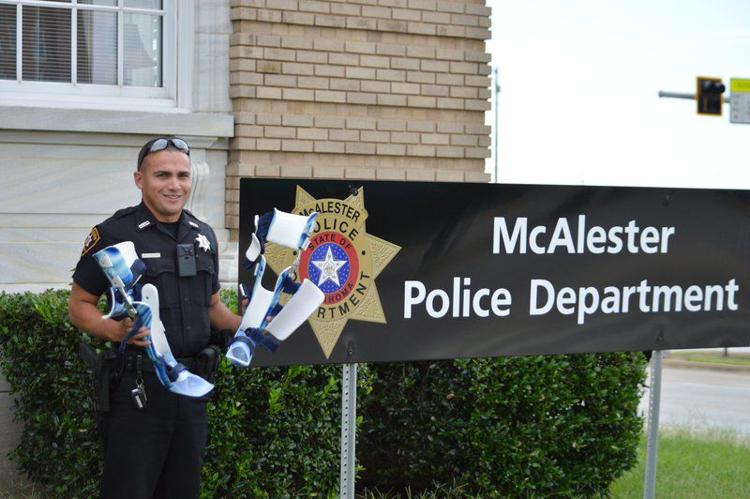 Medaris said his family was ecstatic and are looking forward to the return of the braces, which were shipped overnight Tuesday by Barnett to the family's residence in St. Louis.
"We were blown away by the response on social media and media in general," said Medaris. "When we got the call today, I had to ask him to repeat himself; I couldn't believe it. She's coming home from school right now, so she's going to be excited to hear the news."
He said he received a lot of positive comments from the community when the word was out about the missing braces.
"We had a lot of very nice comments from the people of McAlester on social media posts and a lot of them were saying that they were sorry we had to experience this, and it doesn't represent the community."
Medaris said the comments made by community members and the return of the braces represented the community well.
"The fact that these were returned and so much positivity, I think that really does represent the community and we're very thankful to everybody who was involved and especially to the officer."
When asked if he had anything to say to the person who took the braces, Medaris said he hopes the person can change.
"Whoever had taken them, I know that they weren't intending to take something from a disabled person and so I hope that they can take a different path and make better decisions moving forward."
"I'm pumped about it," said Barnett about the recovery. "We don't like the burglaries going on in town, but we do everything we can in our power to stop stuff and at the same time find and recover property.
"We accomplished that today."