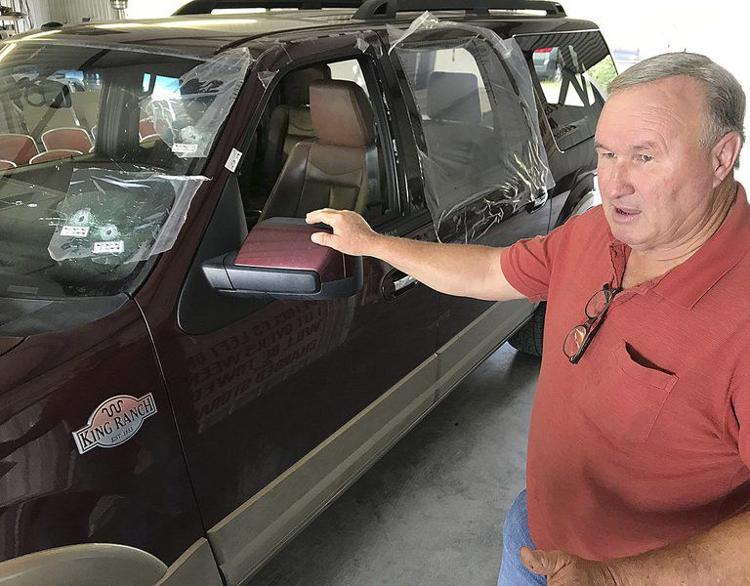 The father of a McAlester man who was shot and killed by state troopers in July says District 18 Attorney Chuck Sullivan should recuse himself from the matter.
Mark Anson Schoggins, 35, was fatally shot July 17 by Oklahoma Highway Patrol troopers following a pursuit that ended at the intersection of South Third Street and South Avenue in McAlester. The man's father, Mark Schoggins, said he is concerned about Sullivan's ability to make a non-biased decision after learning through the family's attorney that the sister of one of the troopers allegedly involved in the pursuit works in the District 18 District Attorney's office and that the trooper's dad works at the Pittsburg County Courthouse.
"That's a conflict," said Mark Schoggins. "He should've recused himself immediately. There's no way that should've gone this far."
Sullivan told the News-Capital that he has not considered recusing himself from the case.
One trooper was reportedly injured by shrapnel during the incident and OHP placed two troopers on administrative leave pending the results of an investigation into the matter — but the father of Anson Schoggins believes the Oklahoma State Bureau of Investigation should be in charge of the investigation instead of OHP's Troop Z.
"The DA is going to make a ruling before anybody knows the real facts of this deal," Mark Schoggins said.
'I'll never understand'
Anson's father remembers his son as a nice guy, never violent and everybody liked him — but "he was just an alcoholic in the end there," Mark Schoggins said.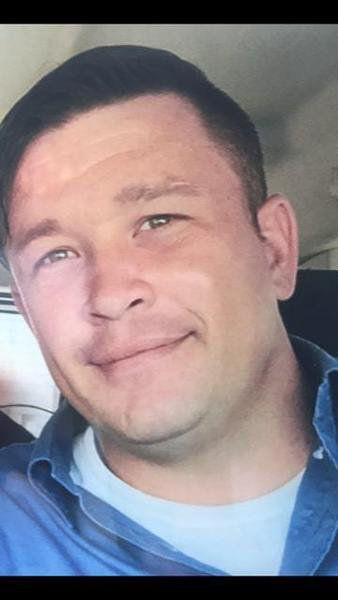 Mark Schoggins said he refused to give his son money to buy alcohol earlier on July 17 and believes it's the only reason his son stole two bottles of vodka from a liquor store.
"How that ever turned into a car chase, I'll never understand," Mark Schoggins said.
Open record requests by the News-Capital and McAlester-based attorney Brecken Wagner for dashcam and bodycam footage from the Oklahoma Highway Patrol and the McAlester Police Department were met with a motion to quash filed by Sullivan.
Sullivan's motion states he determined that the entirety of the videos are redactable under the provisions of 51 O.S. § 24(A)(10)(b) and asked for the court to issue an order prohibiting the release of any video footage recorded by any officers who responded to the scene while the ongoing investigation and possible prosecution of the case are active.
A ruling in the matter has not been made and the video has not been released.
A partial recording of radio traffic was obtained by the News-Capital through Broadcastify and gives a glimpse of what occurred leading up to the shooting.
According to the recording, a McAlester police officer was dispatched to a local liquor store for a shoplifter — which store employees described as a white male in a blue shirt driving a maroon Ford Expedition that left southbound on Sixth Street.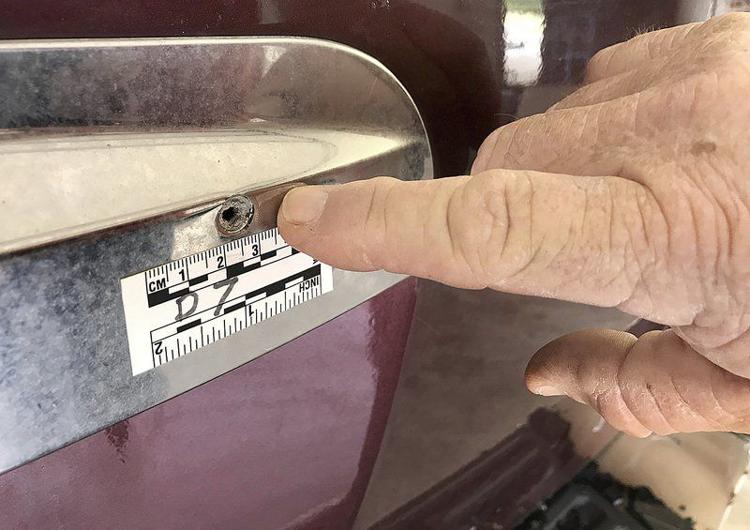 Moments later, an officer traveling on Hardy Springs Road spotted a vehicle that matched the description and "has the vehicle" near Hardy Springs Road and U.S. Highway 69 — but it is not clear from the recording whether Anson Schoggins was stopped.
The officer told dispatch he was in pursuit of the vehicle and to notify Savanna and Kiowa police departments. The officer told dispatch that the driver "looks like he's drinking."
Speeds reached 100 mph near a casino just south of McAlester before the vehicle entered oncoming traffic and passed a convenience store at 105 mph, an officer said.
Dispatch then told officers that stop sticks were deployed north of Savanna — but the officer said the driver attempted take the Indian Nation Turnpike exit before making a U-turn on the highway to turn north toward McAlester.
"I think it's Mark Anson Schoggins," the officer said.
An officer then said he was a secondary unit behind two OHP troopers before another officer said he would attempt to deploy stop sticks south of McAlester. It is unclear from the recording if the stop sticks were deployed.
The pursuit continued north on Main Street and reached 110 mph near Oklahoma Avenue.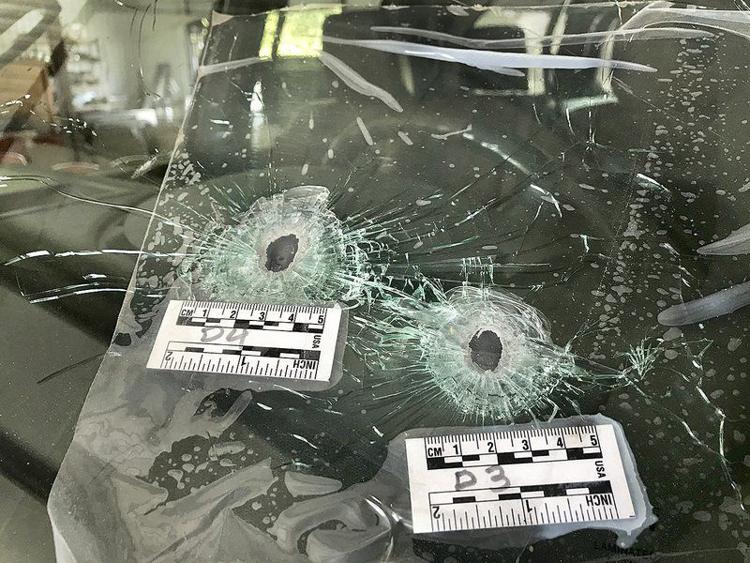 An unknown law enforcement officer said the pursuit was approaching Main Street and South Avenue at 105 mph before a dispatcher said "OHP said we can use force."
Moments later, an officer said shots were fired at South Third Street and South Avenue and told other officers to start securing the scene.
An ambulance was requested for a trooper before officers on-scene asked for detectives and more officers at the scene.
'The bullets went somewhere'
Mark Schoggins believes officers opened fire on his son because they believed Anson Schoggins was another individual with a similar name and expected the man to have a gun.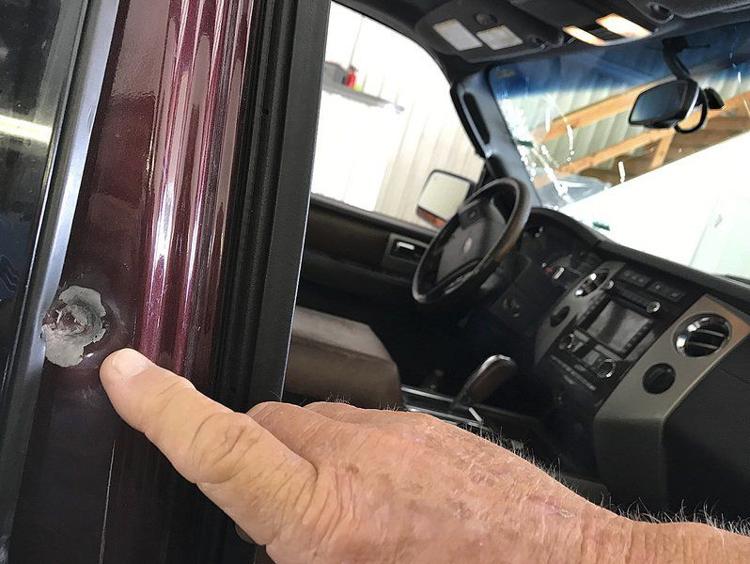 Investigators later told the family's attorney that no gun was found, Mark Schoggins said.
"Why would Anson have a gun, what purpose would he have to have a gun?" Mark Schoggins asked. "He didn't go there to rob a liquor store — he was in his house shoes."
Mark Schoggins pointed to what windows were still intact on the maroon Ford Expedition from the incident.
"You can tell they aren't tinted," he said. "It's not like they couldn't see."
Three bullet holes in the front windshield and another bullet hole in the driver's side door frame led Anson Schoggins' father to conclude his son was shot more than the two times investigators told him.
But Mark Schoggins said he will have to wait at least six weeks for a report from the Office of the Chief Medical Examiner for more information.
"Those bullets went somewhere," said Mark Schoggins as he pointed out the trajectory of the bullets. "And they aren't in that seat."