A state regulation agency suspended a well completion operation near Quinton after a 3.7 magnitude earthquake over the weekend.
A spokesman for the Oklahoma Corporation Commission said Houston-based Trinity Resources was on a 12-hour pause for previous seismicity at the time of the 3.7 magnitude quake that occurred at 4:07 a.m. Sunday and was reportedly felt by people across eastern Oklahoma and northwest Arkansas.
The company's operation was suspended indefinitely after the Aug. 18 earthquake — which was the largest in an ongoing "earthquake swarm" of 37 recorded earthquakes registering at least 2.0 magnitude near Quinton since July 1, according to data from the United States Geological Society.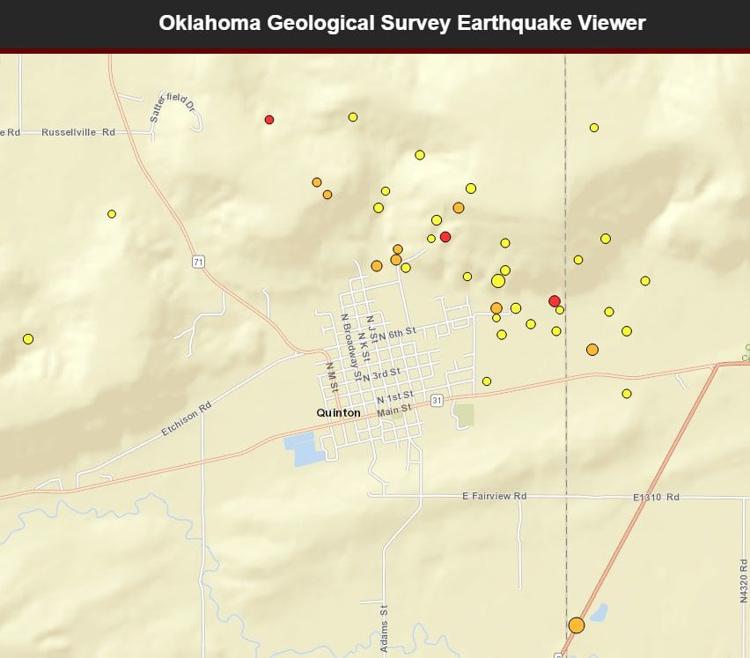 "After the 3.7 event on Sunday, the operator was directed to stop all operations indefinitely," said OCC Public Information Manager Matt Skinner. "Just what happens next has yet to be determined."
Skinner said the operation was the final step in well production, which involves hydraulic fracturing, commonly referred to as "fracking."
Prior to the 3.7 magnitude tremor, the company took several mitigation measures that included changing the volume and pressure of the hydraulic fracturing process, said Skinner.
Skinner said seismicity in the Quinton area is under investigation by the OCC's Induced Seismicity Department.
Information from the OCC shows that well completion operations in Oklahoma must follow a seismicity response plan related to potential seismicity within 3.1 miles of an operation.
Operators shall implement a seismicity response plan if an earthquake of 2.0 magnitude but less than 2.5 magnitude is detected within the 3.1-mile area around a well bore.
If the magnitude is between 2.5 magnitude and 3.0 magnitude and the operator has not initiated its seismicity plan, the operator shall pause operations for six hours and a technical conference call is to be held with the Induced Seismicity Department.
If the operator was operating under an active plan, then a conference call is to be held with the ISD regarding procedures and any steps deemed necessary.
A six-hour pause is to be done by an operator for any earthquake between 3.0 magnitude and 3.5 magnitude. A conference call is to be held with the ISD staff and upon agreement, the operator will be permitted to resume with a revised completion procedure.
With any earthquake greater than a 3.5 magnitude, the operator shall suspend operations immediately and an in-person technical conference is to be held with the Oil and Gas Conservation Division of the OCC to examine whether operations can resume with changes.
Thousands of earthquakes have been recorded in Oklahoma in recent years, and many have been linked to underground injection of wastewater from oil and natural gas production. USGS geologists said the number of 3.0 magnitude or greater earthquakes is on pace to decline for the fourth straight year after state regulators directed producers to close some wells and reduce volumes in others.
Contact Derrick James at djames@mcalesternews.com The Associated Press contributed to this report.