Approximately 135 local and area residents jammed into the Seminar Center at the Kiamichi Technology Center on Tuesday night — including those who strode up to a microphone to speak of their frustration regarding crime in McAlester.
Mayor John Browne called the town hall meeting after hearing there was a lot of talk about crime in the city. He and others attending the meeting heard a lot more talk about it during the gathering at KTC.
Much of the talk centered on auto and residential break-ins and burglaries, which several in attendance ascribed to lawbreakers trying to get money for methamphetamine and other drugs.
Robert Hackler, addressing those attending the event, said there are people in McAlester giving young female drugs, "like candy." He questioned why more drug pushers are not arrested, charged and sent to prison.
"I'm a 54-year-old man. I know where the drugs are," Hackler said. He spoke of a man who has recently been arrested twice and is now out walking the streets.
"I don't understand how drug charges can get dismissed," Hackler said.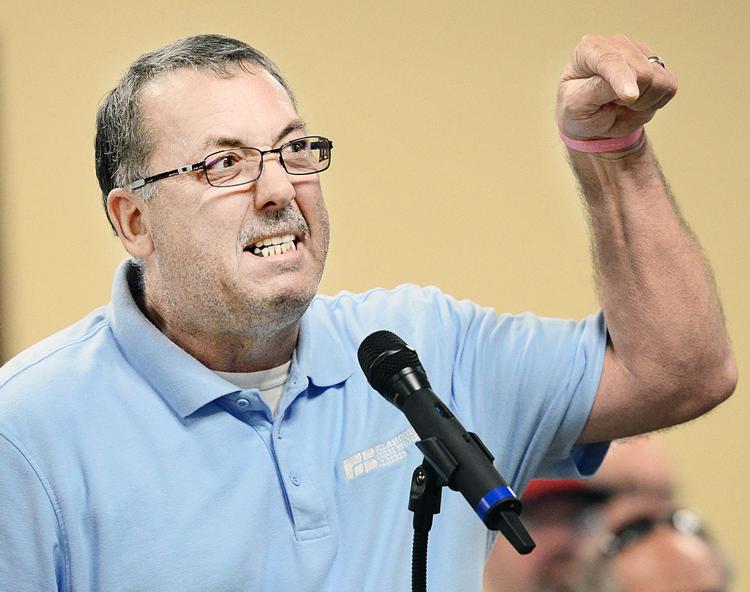 District 18 District Attorney Chuck Sullivan told Hackler that as a prosecutor, he has to abide by the evidentiary rules in place in the state of Oklahoma.
"Without evidence, I can't proceed on it," Sullivan said.
Other law enforcement officers and elected officials who were onstage to address those attending the event were:
• McAlester Police Chief Gary Wansick, Community Outreach Officer Jeremy Busby, who also serves as an officer at McAlester Public Schools, and McAlester Police Lt. Bobby Cox.
• Pittsburg County Sheriff Chris Morris.
• District 7 State. Sen. Larry Boggs.
• District 17 State Rep. Jim Grego.
• District 18 State Rep. David Smith.
Police talked about how individuals can help keep their neighbors, and themselves, from becoming crime victims. They suggested installing lights and security systems around residences, keeping autos, homes and outbuildings locked, and stressed the importance of forming Neighborhood Watch programs.
Wansick said there are more than 40 commissioned officers on the McAlester police force. He said recent statistics showed they made 2,000 arrests and wrote 10,000 tickets within a year's time.
"The guys are hard workers," Wansick said. The police chief said he checked McAlester's crime rate with that of several other cities in Oklahoma, including Muskogee, Idabel and Poteau. He said the crime rate ranged from 51.1 to 51.3 per thousand people.
Officer Busby spoke of details regarding Neighborhood Watch programs.
"The key to Neighborhood Watch is get to know your neighbors," Busby said. He said most of what are called break-ins are "enterings," because many times entry is made through an unlocked door. He urged local residents to call police if they see something suspicious.
"One of the things you need to do is report," Busby said. "We can't be everywhere in town.
"If you see something that is suspicious, call it in," said Busby. He said people sometimes do not call police because they are concerned nothing will happen "and I'll look stupid."
Busby said he's the police's current coordinator for Neighborhood Watch.
"The biggest thing is report, report, report," Busby said. "Call us at any time."
Mayor Browne asked what other steps people can take to keep from becoming a crime victim.
"If you put bushes in front of your house, make sure they're with stickers, so they can't get behind them and hide," he said.
When Browne asked about the theory that it's better not to have too many people in a Neighborhood Watch program, Busby said it's better to keep it at a four- or five-block area.
Lt. Cox also referred to the importance of keeping vehicles locked. He said reports of vehicle break-ins in McAlester show that "95 percent of them were unlocked."
Sullivan said that he has also been a crime victim.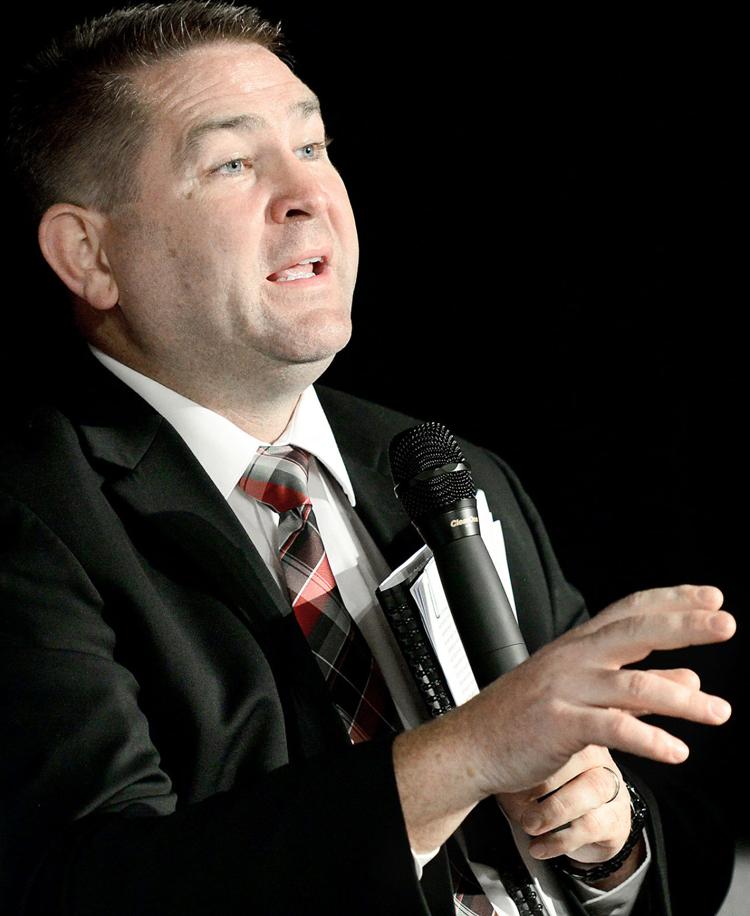 "To begin with, my home's been burglarized; my car's been broken into and my stuff has been taken," he said. Even his wife's wedding ring has been stolen. His personal experience does not change the statutes he has to follow as district attorney, Sullivan said. He said he must make sure the rights of a person arrested have not been violated.
"There's an evidentiary code we have to adhere to," Sullivan said.
He said in other scenarios, someone is arrested before a charge is filed. In that case, a suspect can be held for only 48 hours while his office determines if there is enough evidence to prove the case beyond a reasonable doubt.
"The clock is ticking," Sullivan said. He said sometimes a case comes in that needs major surgery, but the evidence his office receives amounts to a Band-Aid.
Problems have also resulted from the passage of State Questions 780 and 781, with 780 reclassifying a number of drug and property theft offenses as lower violations.
"It was billed as a drug bill," Sullivan said. "What was also in there was all this property crime." Prior to passage of the state questions, concealing stolen property was a felony, Sullivan said.
"Now, we have to show that the property you have is over $1,000."
District 17 Rep. Grego said there is currently a big push in Oklahoma city for more criminal justice reform.
"One was called 'Catch and release,'" he said. "They were trying to do away with bail and make it more personal recognizance." Grego said he and other rural legislators opposed the measure, which ultimately failed, but he expects to it come back during the next legislative session.
District 18 Rep. Smith said the bill wasn't good for Pittsburg County. He said the measure failed to pass in the House by a vote of 51-49. He also said rural legislators voted down the measure.
"That's what we're up there fight for," he said. "That's all I've got to say about that."
District 7 Senator Boggs told those present they could make a difference.
"You're the ones that can make the change," he said. "The key to it is stopping it before it happens." Boggs said he's always been rural. "I've never forgotten where I came from," he said.
He said the legislature tries to correct a problem after it happens.
"Stop it at the local level," said Boggs.
Browne, addressing the audience again, said "One of the biggest problems we have is drugs." He urged those present to watch their medicine cabinet to make sure no one is taking some of their prescription drugs.
When Browne opened the meeting up for residents to address the group, Julie Porter said she believes she was the victim of  the largest residential burglary in the city of McAlester, which she said amounted to a $35,000 property loss.
Porter said she believes burglars spent eight hours in her home or on her property, taking numerous items, including a scrapbook with baby pictures.
"By the way, they took our security system," she said. Porter said she believes she knows who the burglars are.
She asked "What am I supposed to do?"
"I think you would be a prime candidate for a Neighborhood Watch," Browne said.
McAlester banker Kevin Priddle, who is a former McAlester mayor, spoke of how the state of Oklahoma gives offenders serving prison sentences 575 days of credit for very 365 days they serve. Offenders can even amass more time off for good behavior, he noted.
Priddle said the state legislature has failed the people of Oklahoma in education and in public safety.
"You can spend all the money you want on economic development. If people don't feel safe, they're not going to come," Priddle said.
Greg Key also addressed the crowd, telling how a family business was broken into and trashed.
"My dad is 80-years-old," Key said. "He was down on his knees cleaning up." Key said his daughter warned his dad not to pick up a hypodermic needle left by the burglar. He said the man who broke into the building was soon free, and broke into other sites.
"Everybody deserves a second chance, but not a third, or fourth or fifth," he said.
He, and several others, complained about people riding bicycles around the city, with backpacks.
Pittsburg County Sheriff Chris Morris addressed the crowd, saying burglaries are down in Pittsburg County, although they still occur. He said his office arrests drug offenders "every day."
Several women addressed those present regarding their personal experiences with burglaries of their homes and how they felt victimized.
The Rev. Scott Vandenheuvel also spoke of his personal experiences, including trying to help a man from Sapulpa who had been released in Pittsburg County and had nowhere to go. The man told him of techniques used to commit burglaries, including plans for violent responses if confronted. He also said he knows of drug houses in McAlester and questioned why police do nothing about them.
Jean Sipes said she's returned to McAlester after several years living in Arizona, where she saw Neighborhood Watch programs help reduce crime.
"It works," she said. "In 18 years, we shut down 18 meth houses." She said burglars and other offenders learned people were watching in that part of town and learned to stay away.
She said McAlester has changed during the years she's been away.
"It's gotten worse," she said.
Another woman publicly apologized to a burglary victim, saying her son had broken into the lady's home. A daughter-in-law, facing nine charges, has been released back on the street, she said.
Afterwards, several participants, including Morris, said they believed the town hall meeting had been a good thing.
"These town hall meetings are really good to bring people up to date in what's going on in the county and the police department," Morris said.
Lt. Cox said he believes more funding is needed for things such as the previously successful highway interdiction program in McAlester.
"We've got 90 percent of the drugs coming from south of the border or the coast," Cox said. "Until it's stopped, this will continue."
Boggs also said it was a good meeting — and any major change starts at the local level.