Enjoy these photos selected from communities across the country for a behind-the-headlines look at the last week of April.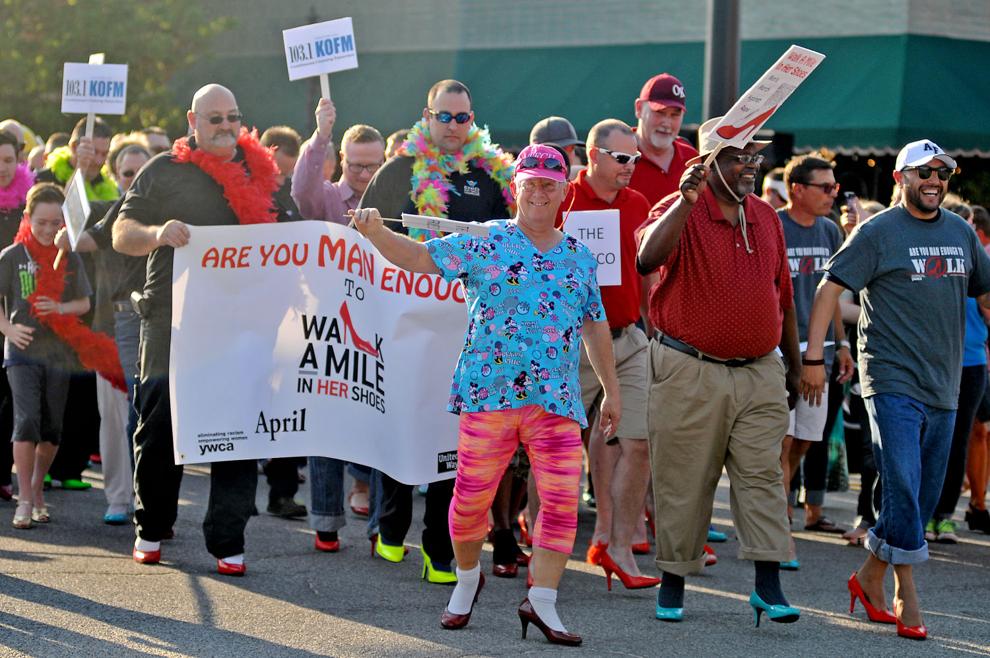 Let the heeling begin: Men don high heels during the second annual YWCA Enid's Walk A Mile in Her Shoes during the Tri-State Million Dollar Parade in downtown Enid, Oklahoma Friday. The event raises awareness of domestic violence and supports the YWCA's Sexual Assault Nurse Examination Room. -- Bonnie Vculek | The Enid (Okla.) News & Eagle.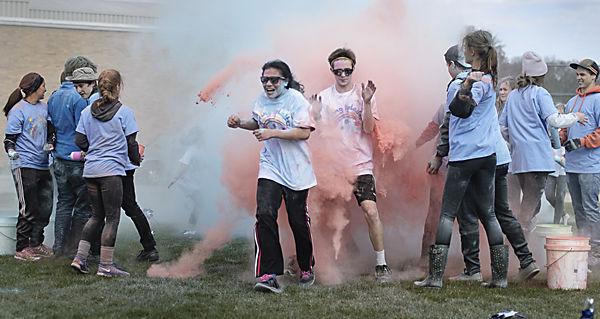 Andeta Karamina, 17, left, and Michael Gills, 16, run through the colorful finish of the Spring Splatter 5K at Traverse City (Mich.) Central High School on Saturday. Andeta Karamina, an exchange student from Indonesia, said this was her first splatter run, and that she hadn't experienced anything like it before. "I'm going to tell my mom 'look at my face, at what I got in America'," Andeta Karamina said. -- Pete Rodman | The (Traverse City, Mich.) Record-Eagle.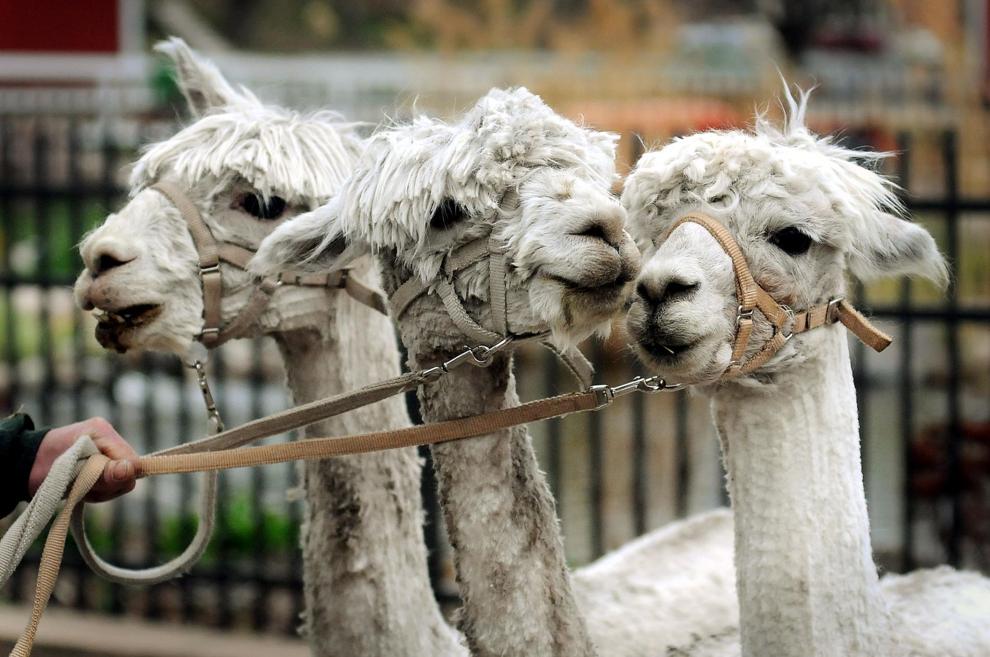 A trio of alpacas owned by Rochelle Koberoski sport new 'dos after their annual shearing at Sibley Park in Mankato, Minn. on Friday. -- John Cross | The Mankato (Minn.) Free-Press.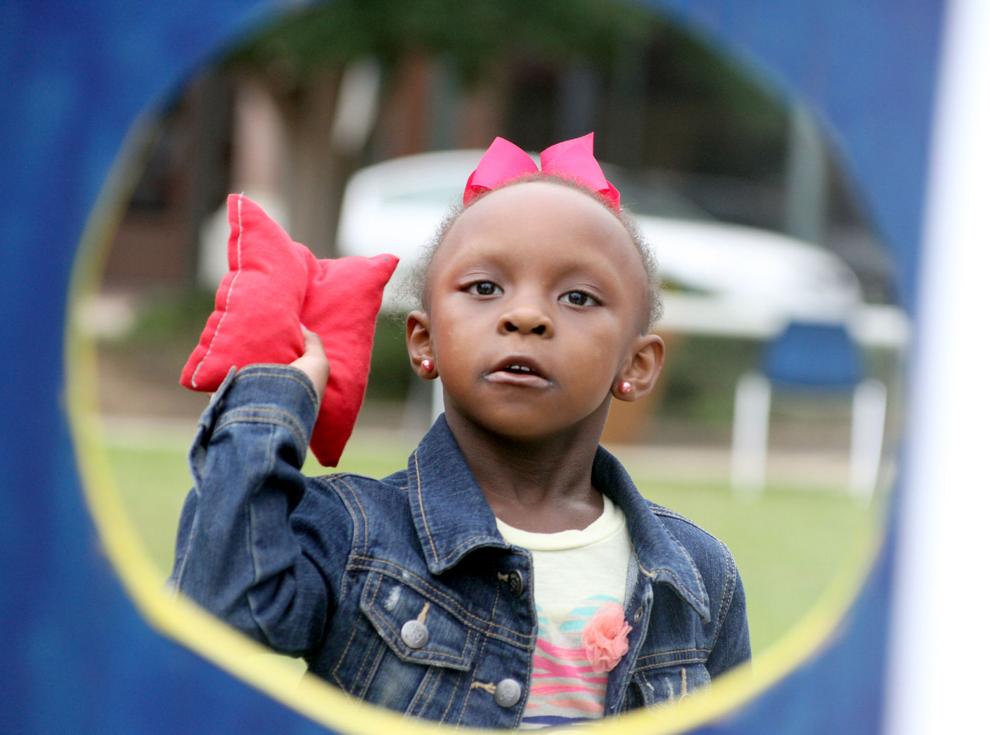 Taylor Gibbs, 5, tosses a beanbag through a hole Tuesday at Dumont Plaza in Meridian, Miss., on Tuesday, to win a prize at the Kid's Art Crawl. -- Paula Merritt | The Meridian (Miss.) Star.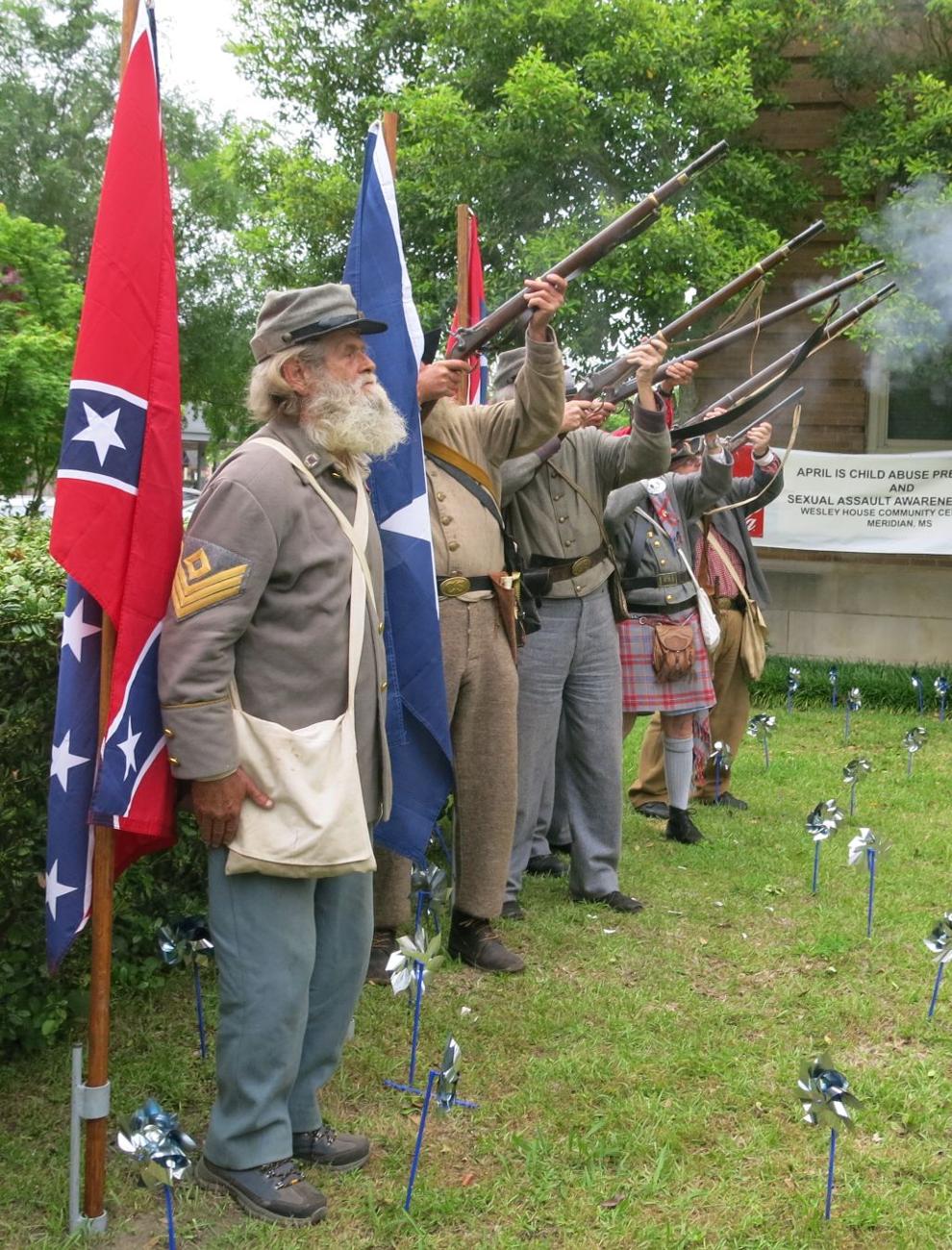 Members of the Jones County Rosin Heels 227 Sons of Confederate Veterans color guard provide a musket salute Monday during the Confederate Memorial Service at the Lauderdale County Courthouse in Meridian, Miss. -- Jeff Byrd | The Meridian (Miss.) Star.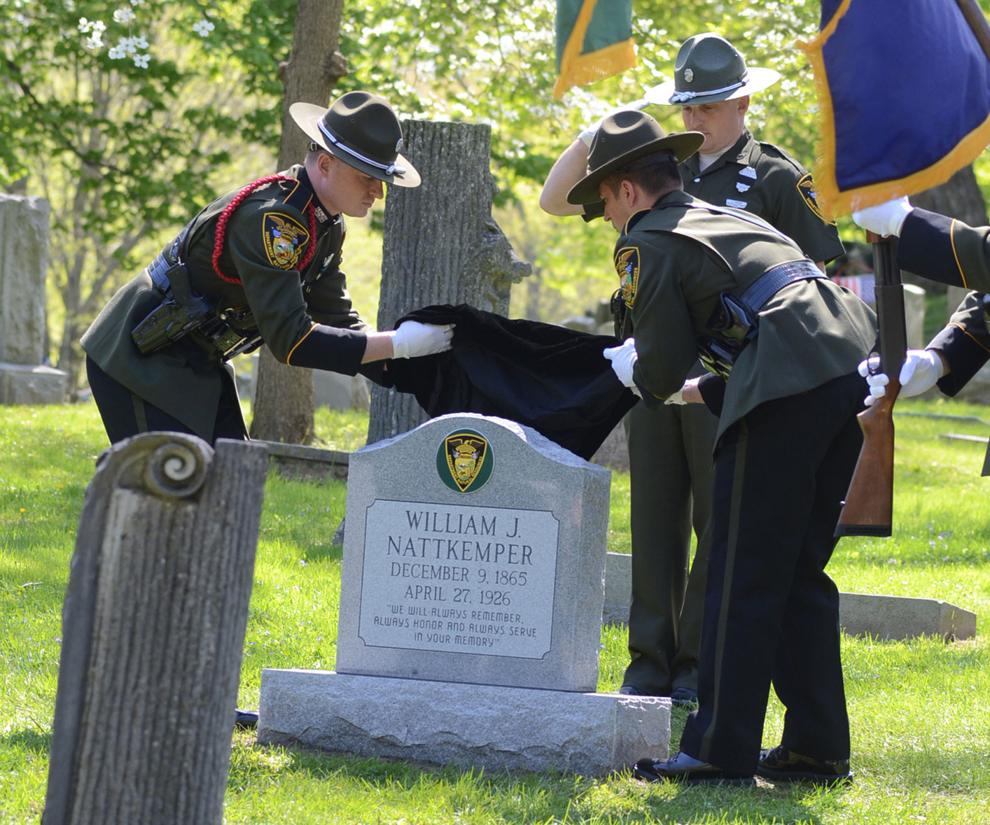 Indiana Conservation officers uncover the new tombstone of Indiana Game Warden William Nattkemper in Highland Lawn Cemetery in Terre Haute, Ind. Thursday. -- Jim Avelis | The (Terra Haute, Ind.) Tribune Star.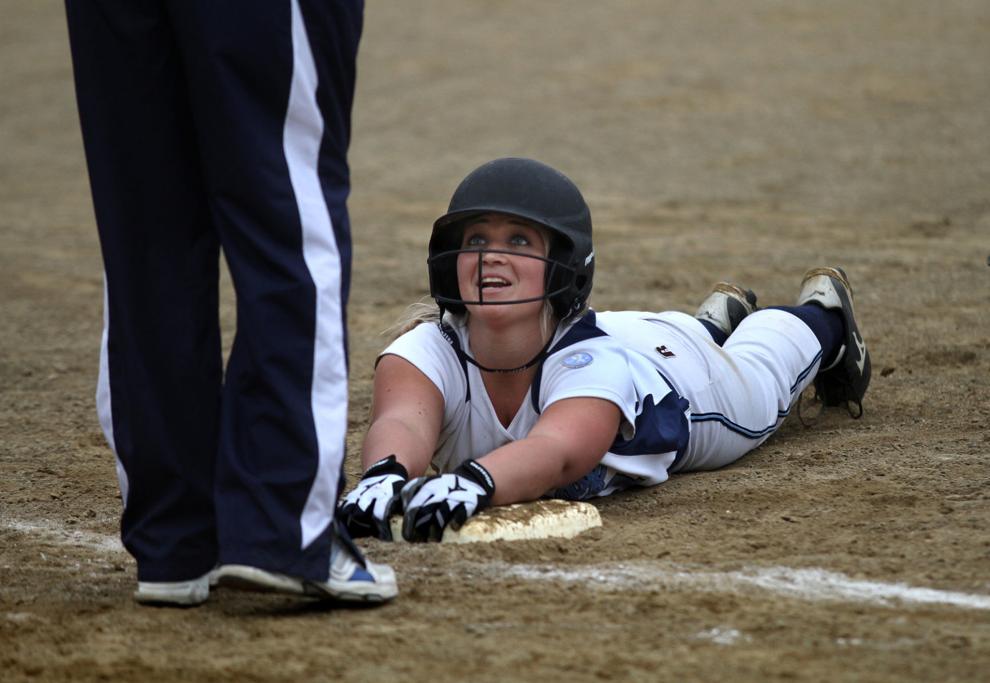 Peabody High School's Nikki Sullivan of smiles up at her base coach after sliding safely, if unconventionally, into third base against Gloucester Monday at Matos Field in Gloucester, Massachusetts. Click here to buy this photo. -- Mike Springer | Gloucester (Mass.) Times.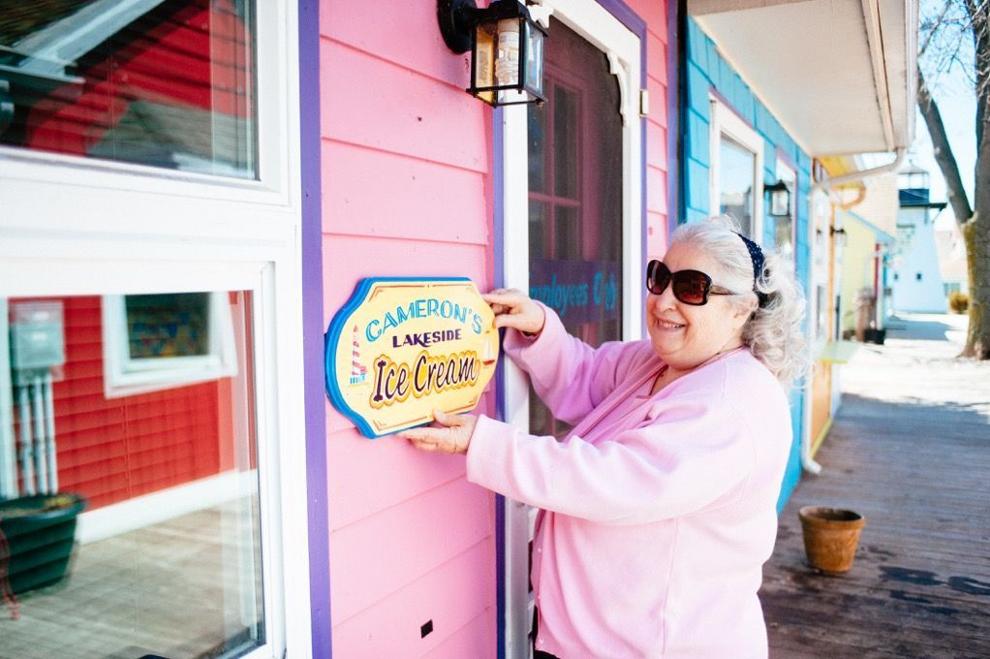 Nancy Webb preparing to open Cameron's Lakeside Ice Cream Shop for business Saturday in Olcott Beach, New York. Click here to buy this photo. -- Joed Viera | Lockport (NY) Union-Sun & Journal.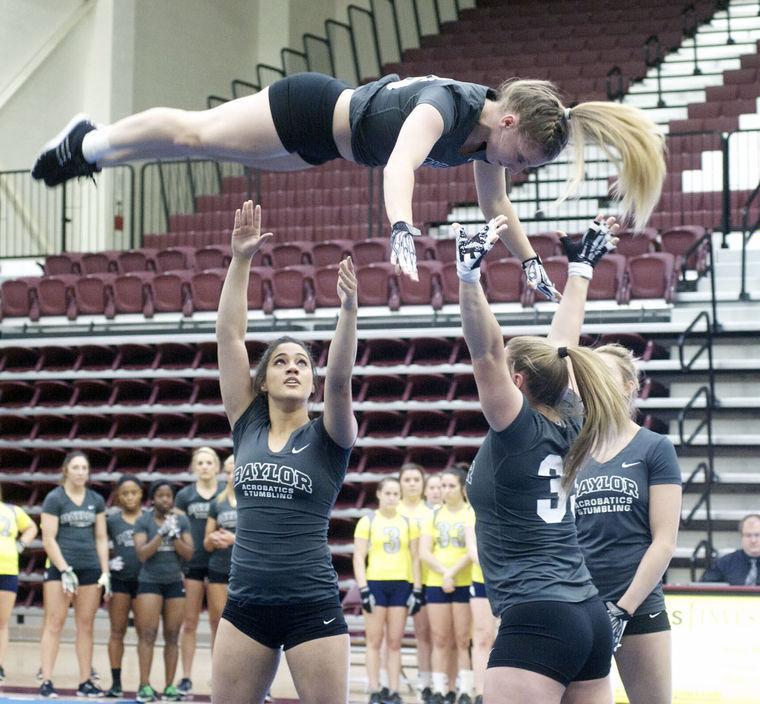 Baylor's Allie Williams (in air) is caught by her teammates during individual events at the National Collegiate Acrobatics & Tumbling National Championships April 23 at Joe Retton Arena in Fairmont, W.Va. -- Matt Welch | The (Fairmont, WV) Times West Virginian.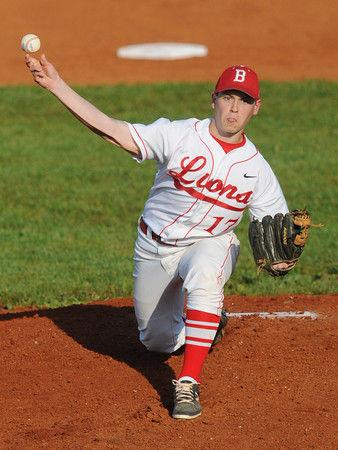 Boyd County's Caleb Hunt pitches to Johnson Central during the firs inning Friday, in Cannonsburg, Kentucky. Click here to buy this photo. -- Kevin Goldy | The (Ashland, KY) Independent.